Inc. 5000 Europe Award
Inc. 5000 Europe Award 2017
Image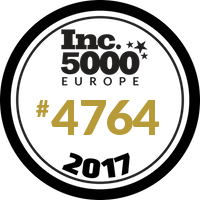 We are pleased to be part of the Inc. 5000 list again this year!
The list is comprised of the fastest growing private companies in Europe, based on three year turnover numbers. These are the companies that are making waves and growing anywhere from 54% to over 4,000% in the last three years. We are proud to be part of this impressive list for the third year in a row, this year ranking at #4764 with a 109% turnover.
In response to our ranking our CEO, S. Engelen, shared his throughs on our win as "Knowing that our passion for PDF and automating document workflow is translating to positive business growth, shows that we are growing a stable and useful business". We will continue to strive in 2017 and beyond to bring more useful add-ons for iText and push to continue our fantastic growth for another year.
Congratulations to all of the Inc. 5000 winners, and may we all continue to grow!
Inc. 5000 Europe Award
---
---