It has been exciting to engage with our customers as we have been planning the iText Summit 2014. Some of our customers have some really amazing use cases that we knew would be interesting to share. We hope these help assist you in understanding some of the additional functionality of iText that you may not be utilizing yet.
CSC has been gracious enough to share their usage of iText for Automation and XFA flattening into PDF/A functionality. They will be available for technical questions after their talk.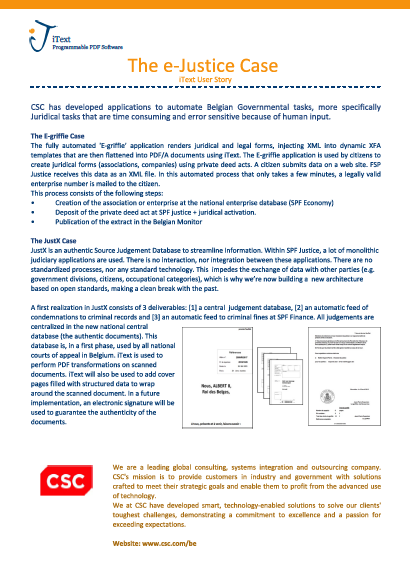 CSC has developed applications to automate Belgian Governmental tasks, more specifically Juridical tasks that are time consuming and error sensitive because of human input. The fully automated 'E-griffie' application renders juridical and legal forms, injecting XML into dynamic XFA templates that are then flattened into PDF/A documents using iText. Another application, JustX is an authentic Source Judgement Database to streamline information.
Click on the image to download this first use case, we will add more cases soon.
---