How does digital signing work in PDFs?
Digital Signatures
Digital Signatures are the solution to replace wet ink signatures when using digital documents. This concept has been widely adopted and is well integrated into the PDF specification. The main benefits of using digital signatures include automating and securing your digital document workflow, saving you time, money and headaches. 
Image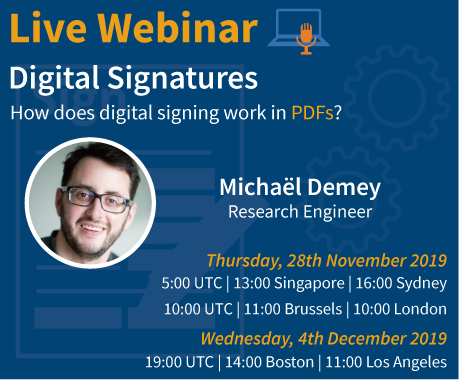 iText has always been at the forefront of digital signatures in PDF by supporting PAdES and being one of the first to support signatures in the latest PDF 2.0 release. Our mature and easy to use API has been thoroughly tested by the industry and proven to be a success used throughout several use cases such as company signatures, desktop applications, or integration into a document management system. 
In this webinar, you will:
Understand how digital signing works in PDFs
Gain more insight into signing architectures
Learn how iText technology enables digital signing
See a variety of use cases in different types of industries
Your presenter: Michaël Demey, Research Engineer at iText
We will be organizing live webinars. You can register for one or more of the sessions: 
November 28th 2019 at 05:00 UTC | 13:00 Singapore | 16:00 Sydney
November 28th 2019 at 10:00 UTC | 11:00 Brussels | 10:00 London 
December 4th 2019 at 19:00 UTC | 14:00 Boston | 11:00 Los Angeles
Read our Digital signatures eBook to learn more.
Live webinar: Digital Signatures
Technologiepark 122 9052 Zwijnaarde