NDC London 2020
Since its start-up in Oslo 2008, the Norwegian Developers Conference (NDC) quickly became one of Europe`s largest conferences for .NET & Agile development. Today NDC Conferences are 5-day events with 2 days of pre-conference workshops and 3 days of conference sessions. From 27-31 January 2020  will host the annual NDC Conference in the UK. NDC London is a five-day event with the same format as its European sister NDC Oslo.
Image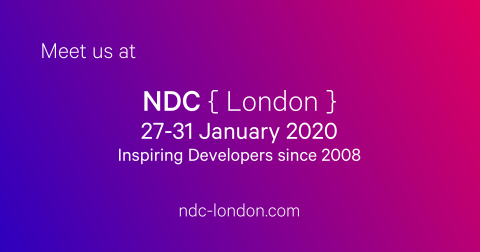 The conference will feature 5 tracks covering topics such as:
.NET - Agile - C++ - Cloud - Database - Design - DevOps - Embedded - Front-End Framework - Fun - Functional Programming - Gadgets - Internet of Things - JavaScript - Microsoft - Mobile - People - Programming Languages - Security - Techniques - Testing - Tools - UX – Web and more.
iText at NDC London
Our developers will be present at NDC London. We happily invite you to stop by our booth (#9) if you'll also be attending. We'd love to chat with you!
NDC London 2020
Queen Elizabeth II Centre Broad Sanctuary, Westminster SW1P 3EE London