iText 7DITOとは?
データをiText品質のPDFに変換する、強力なテンプレートエンジン
iText DITOは、データ中心フォーム及び テンプレートの作成と保守のプロセスを簡単にするiTextの ローコードドキュメントジェネレーターであり、ビジュアル テンプレートデザイナー 及び処理用の強力なバックエンド( Java SDK、nbsp DockerもしくはCLI)です。
もしお探しなら、それは理想的なソリューションとなります
データがどこにあっても、活用可能
ルールに準拠したPDFドキュメントを大量に作成
ドキュメント自動生成プロジェクトに関する時間とコストを削減
ビジネスユーザーがドキュメントテンプレートを持つことが可能
iText DITO on MuleSoft Anypoint Exchange
The iText DITO API Connector is available on MuleSoft Anypoint Exchange for your convenience. Connect with the MuleSoft ecosystem and use data from any system to generate PDFs.
Discover More
メリット
なぜiText DITOを使うのでしょうか?
iText DITOは、2つのパートから構成される スケーラブルなソリューションになるべくデザインされています。これは直感的なフロントエンドWYSIWYGデザイナーと強力なiText SDKのことを指しています。 これらを同時に使うことで、ビジネスニーズを満たすために1日で数百から数十万のPDFドキュメントを生成可能な テンプレートエンジンが利用可能になります。 iText DITOをデータベースと一緒に組み合わせて使うと、処理対象のデータを抽出したり、データベースからドキュメントに情報を自動で入力したりすることが可能です。 
iText DITOを使えば、HTML5入力フォームを経由で収集されたデータがJSON形式に変換されて、既存のITリソースと難なく統合することが可能です。メーリングデータベースにリンクされた魅力的なサブスクリプションフォームを簡単に作ることができます。そして、逆もまた可能です。   請求書、支払い書、クレジットカードの明細書、公共料金、領収書などを生成するために、iText DITOを使ってPDFを生成するために、構造化データベースを使用します。 
Enterprise grade
iText DITO is scalable, robust, capable of mass volume and ideal for large enterprise usage.
SDK/API
The iText DITO SDK gives developers the flexibility to integrate its functionality into existing processes and can be customized to meet your document workflow requirements.
It is available as either a native Java version, a command-line version, or a Docker image with a straightforward and programming language agnostic RESTful API for convenient deployment and scaling.
Fast and convenient
iText DITO reduces the time to develop templates. It makes both maintenance and updating of templates easier and faster.
Visual designer
iText DITO uses an interface to build templates via drag and drop, replacing cumbersome coding. It also includes easy to use wizards for features such as:
conditional content to show or hide content based on set conditions
conditional formatting to style data bindings based on their values
filtered loops to display a subset of items in an array
generating 1D and 2D barcodes from your input data, with a wide range of barcode formats supported
assisting with template design for generating accessible PDF/UA compliant documents
generating line and column charts based on data in an array
ケーススタディ
iText DITOを使った、健康レポート用の手早いテンプレート開発
New Ocean Healthは、 テンプレートベースのPDF生成に関する新しいソリューションであるiTextを使う、DITOソフトウェアデザイン及び開発の最先端企業であり エンタープライズ健康管理プラットフォームの統合を行います。 
iText DITOを使って、 顧客ユーザーからのデータ処理とフォーマット化を行い、レポートテンプレートにデータを入力、そしてPDF形式への変換を行います。
このケーススタディーはiText DITOがどのようにして時間とリソースを節約できるかを示しています。
Image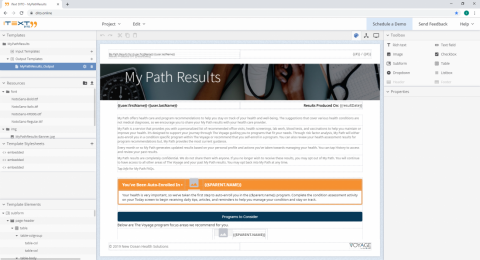 pdfHTML,、HTML変換、標準PDFへのCSS
HTMLをPDFに変換するコードベースの方法をお探しですか?カスタムタグ処理、ページイベントなどでその機能を拡張するオプションがあるのでしょうか?iText 7 CoreのアドオンであるpdfHTMLをお試しください。
Image
iText pdf2Data, easily recognize and extract data from documents
Now you've got template-based PDF creation solved, are you interested in a solution for intelligently extracting data from documents?
Image