はじめに
iText 7 pdfDebug
pdfDebugはPDFデバッカーで、PDFを検査するのに役立ちます。このPDFパーサーをお使いのIDEに統合すると、iTextコード内にあるバグを発見して修正するのに役立ちます。
How does it work?
After installing pdfDebug from the Eclipse Marketplace, Netbeans Plugin Portal or IntelliJ Plugins repo, you need to activate debug mode in iText 7:

PdfWriter writer = new PdfWriter("output.pdf", new WriterProperties().useDebugMode());
Debugging
When debugging, a PdfDocument instance will be displayed with the pdfDebug view:
Highlighting changes
When stepping through the code, pdfDebug will highlight which parts of the PDF structure have changed. In the example below, a page (object 6) has been added, resulting in changes in the /Count and /Kids entries.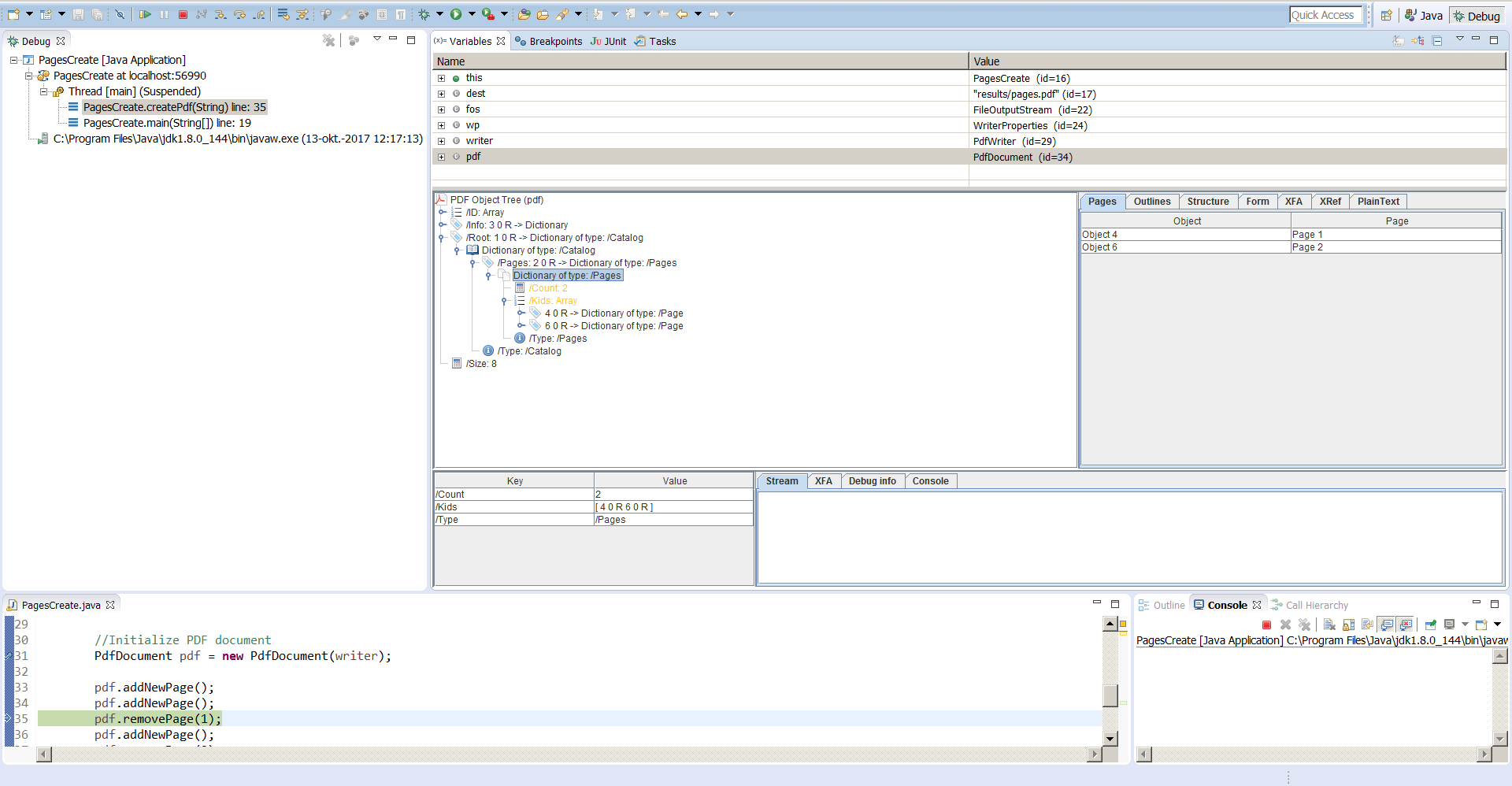 Resources
Here you will find the needed resources to install and use pdfDebug.
メリット
iText 7 pdfDebugを使う理由
バグの発見と修正を容易にする
このアドオンを使用すると、詳細なツリービューを使ってPDFファイルの内部構造をはっきりと確認することができます。パネルのコレクションでは、興味深いPDFのデータ構造を紹介しています。
PDFのプログラミング時における検証
pdfDebugは、最終的に欠陥のある出力文書に戻って追跡するのではなく、作成中に部分文書や未完成文書を分析し、さまざまなPDFビューアー(人)とツール(マシン)に アクセスできるようにします。 
一部のIDE(統合開発環境)で利用可能
pdfDebugは現在、Eclipse、IntelliJ、NetBeansで利用でき、今後さらに増えてくる予定です。
主な特徴
iText 7 pdfDebugのコア機能
文書処理の命令結果をリアルタイムで見ることができ、万が一問題が起こっている場合は、はっきりと確認することができます。クリーンなツリー構造で文書を可視化することにより、ファイルのオブジェクト、コンポーネント、そしてそれらの関係性を見ることができます。
開発環境への統合
信頼できるIDE環境で作業ができるようになります。pdfDebugは現在、Eclipse 3.8以降に対応しています。
IDEのデバッグフレームワークを活用
ブレークポイントと手順を追った実行を利用して、PDF処理で改善する余地がある場所を特定します。
PDF文書の内部構造を表示
PDFオブジェクト構造を参照して、さまざまなオブジェクトとストリームを調べることができます。ハイライトは、進捗状況と意図しない変更を表示します。
iText 7 Core/Communityとシームレスに統合
簡単にiText 7のデバックモードを有効にすることができます。