Case study
ZEISS: using iText to create and archive ophthalmic reports
ZEISS manufactures innovative ophthalmology devices, and integrates iText 7 into their FORUM family of software applications.
Read on to learn more.
Image

Background
As specialists in ophthalmology, microsurgery and other medical growth sectors, ZEISS manufactures innovative products such as their range of ZEISS ophthalmology devices. These consist of products and solutions to enable efficient diagnosis and treatment of cataracts, glaucoma and other retinal disorders.
Goals
An important focus for ZEISS is the networking of systems and integrating data management to improve medical workflow efficiency. To enable this, ZEISS developed their FORUM family of  software applications. FORUM is a scalable and  flexible data management system that evaluates clinically relevant data from diagnostic devices and  gives direct access to the full examination history  of patients.
Challenges
To allow FORUM to integrate data from both DICOM compliant and non-compliant devices into PDF reports
To ensure the resulting PDF reports are PDF/A compliant
Offered solution
iText was chosen as the PDF generation engine for FORUM due to its strong PDF/A capabilities, a requirement for the DICOM (Digital Imaging and Communications in Medicine) standard which defines the formats for exchanging medical images.
Patient diagnosis reports must comply with the DICOM standard to allow them to be shared and archived on a long-term basis. ZEISS has integrated iText in FORUM since its initial development in 2011, and it is a vital component of the application's functionality. FORUM integrates data from both DICOM compliant and non-compliant devices. When a patient undergoes an eye analysis such as a visual field examination or an angiography, iText is used to format and combine images and other data from the analysis into a PDF report.
iText can also combine data from multiple sources and create custom reports as required. The results can then be reviewed by medical professionals, and as reports are produced as PDF/A they can be archived as required by the DICOM regulations.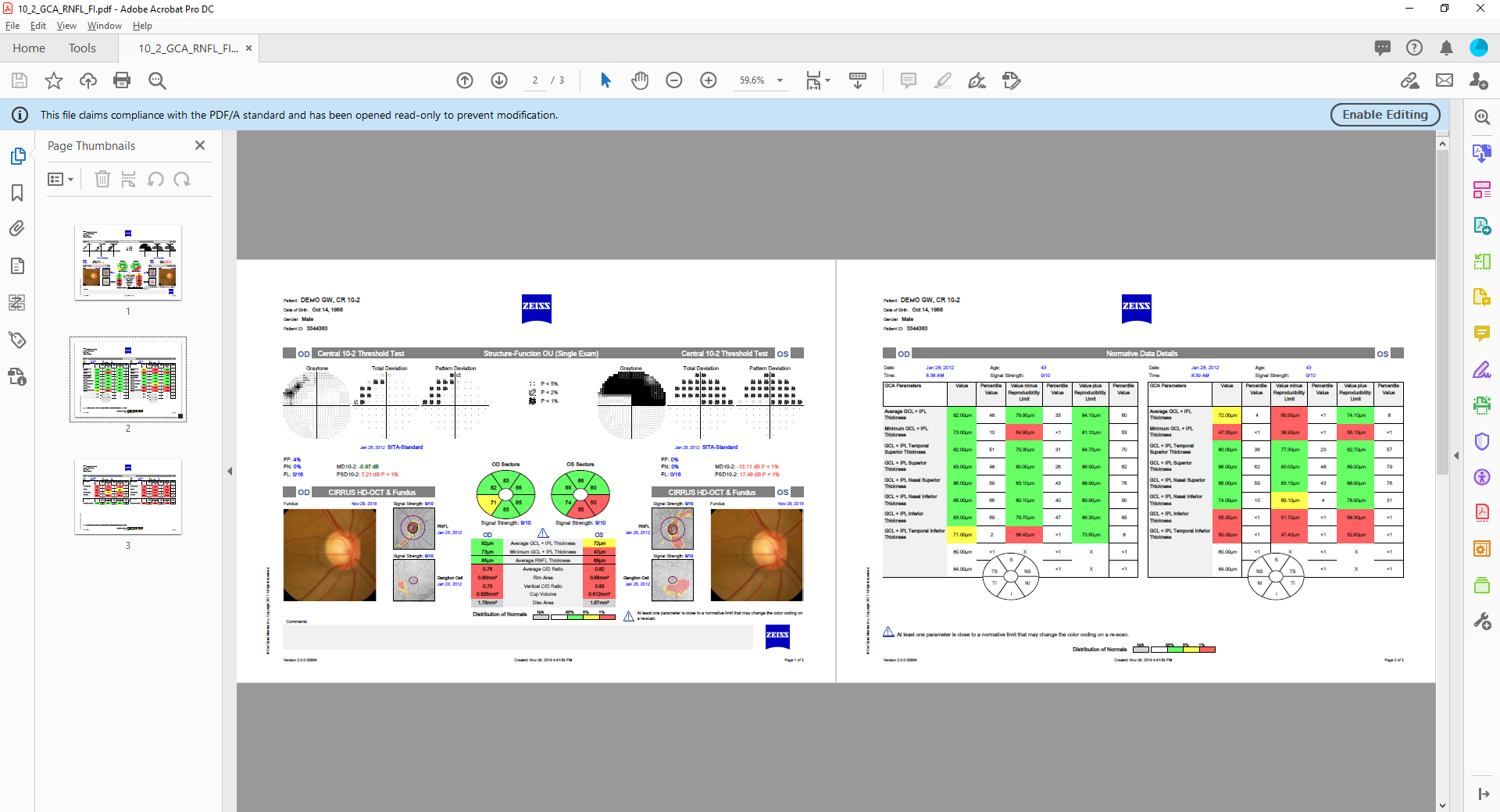 We're very happy with the PDF/A functionality provided by iText, and it forms an essential part of our DICOM-compliant reporting framework.
Robert Hien, Lead Software Developer: ZEISS
Result
PDF/A compliance is a particular strength of iText, and it supports all current conformance levels of the PDF/A specification (PDF/A-1, PDF/A-2, and PDF/A-3).
ZEISS recently upgraded to iText 7, taking advantage of its enhanced features such as the improved document model and layout engine. PDF generation in FORUM was developed using the .NET version of iText 7, though expanding support for generation in Java-based environments is being considered, thanks to the iText Java and .NET APIs being identical in the way functionality is implemented.