Inc. 5000 Europe Award
Inc. 5000 Europe Award 2015
Image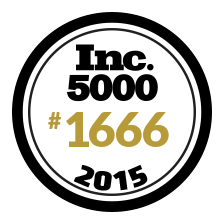 iText makes its debut on the Inc. 5000 list claiming the number 1666 spot. The Inc. 5000 list reflects overall revenue growth of private companies over a three-year span. To be eligible, companies on the list must have generated at least $100,000 in revenue in 2011 and, at least, $2 million in 2014. Companies must be privately held, for profit and independently-owned. Check out the full list.
"This recognition validates the hard work and the connection between innovation and growth," said Bruno Lowagie, chief executive officer and founder of the company. "As iText continues to establish itself as a pacesetter in the PDF space, we plan for more astounding growth as we deliver our PDF technology to developers in the U.S., Asia and other markets around the world."
iText's product innovation has garnered several recognitions. Last year, iText Group was recognized by Deloitte as one of the fastest growing technology companies (28th place in the EMEA region) and the company won the BelCham's "Most Promising Company of the Year 2014" Award in New York. Earlier this year, the company won a Hermes Ceative Award with the design of its new logo and a Silver Best In Biz International award in the category "Product of the Year".
IN THE PRESS:
BelCham: BelCham member iText and Acquia secure impressive ranking on the Prestigious Inc. 5000 List of Fastest Growing Private Companies in America
DataNews (NL): iText en Acquia vallen in de prijzen
DataNews (FR): iText et Acquia se distinguent
De Tijd (NL): Acquia en iText staan in Inc 5000 lijst groeibedrijven
Boston City Biz List: iText Lands Spot on Prestigious Inc. 5000 List of Fastest Growing Companies in America
Startups.be: iText did it again! More recognitions for the Belgian Startup
---
---