Deloitte Belgium today announced the names of the fifty technology companies that have been nominated for the first fully Belgian edition of the Deloitte Technology Fast50 competition. The Technology Fast50 award will be given to the country's fastest-growing technology company, based on its percentage of growth in turnover during the last five years, at the award ceremony which will be held on 22 October, 2014 in Brussels.
Public or private companies headquartered in Belgium who develop a technology-related product or service and who have experienced substantial revenue growth over the last five years, were invited to register for the competition between 15 May and 31 August for their chance to be nominated as one of the country's 50 fastest-growing technology companies.
"The Deloitte Technology Fast50 competition enables companies –and the winner in particular— to strengthen their credibility toward customers, prospects and suppliers, as well as investors, business partners, employees and peers," explains Vincent Fosty, Partner and TMT Industry Leader. "The Fast50 competition also provides a unique opportunity to build relationships amongst each other, as well as with venture capitalists and larger international companies, which can lead to international opportunities, and to enhance the company's employer brand, helping to attract and retain talent."
We can only agree with what mr. Fosty says. Last year, iText Group was recognized by Deloitte as one of the fastest growing companies in Belgium. With a growth percentage of 2625%, we were ranked on place #3 in Belgium, place #10 in the Benelux, and place #53 in the EMEA-region. In the months that followed the Award Ceremony, we received at least one call or mail a week from VCs, growth equity investors, and so on. Due to lack of time, we were unable to talk to all of them, but we listened to the most important players in the market. After hearing their advice, we decided to take action. The Belgian HQ company used to be a BVBA (similar to an LLC). Today, it's an NV (similar to a Corp). We installed a board of directors whose first task it was to discuss the 70-page business plan we compiled. We doubled the number of employees (and we're still hiring). Our latest achievement, was to open an office in Singapore to explore the Asian market.
Specific parts of the business plan change as we execute it, but the main goal remains: we bootstrapped a profitable business (no loans, no angels, no VCs) and now we're gearing up to ensure sustainable growth. In a way, you could say that we're funding a Series A round using the profits we made in previous years.
For the 2014 edition of Deloitte's Fast 50, our growth percentage is higher than last year's percentage. We hope that this will result in an even higher ranking and we're looking forward to another exciting year for iText.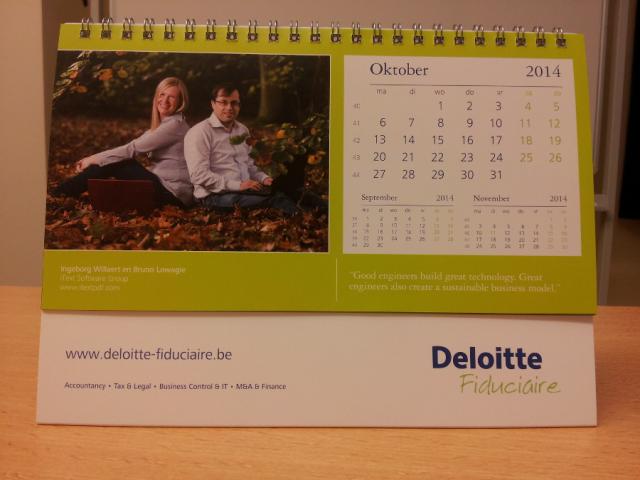 ---
---