One of the core values of iText is customer focus. In fact, it's ingrained in our DNA, as an open source company the feedback from our community and users is essential to us. For that reason, as most companies these days do, we always ask our clients to share their feedback on the service we provide them. 
As we want to be as open as possible to our community not only about our code roadmap, but also about how we are doing as a company and delivering the value you deserve, we thought it is time to share some insights on that.
Over the last couple of years, we have been asking our clients for a score and feedback once a ticket in our support portal has been closed. With a yearly satisfaction average above 80%, iText is doing quite well. For Q1 2020, the quarter that will always be remembered because of COVID-19, our average satisfaction rate was even a whopping 96%. Kudos to our customer focus team, who can achieve such excellent results in these challenging times!
So, why does iText receive these high results? 
Who better to ask than André Lemos, our Global Lead of Product and Services? Tell us, André…
André: Let me first say that we are, naturally, very proud of these results. They reflect how iText puts quality and high standards at the heart of everything we do. I believe the major reason for these high rates is the focus we put on our users: everyone in the company works very closely with them, and that's even more the case for our customer service agents. When a ticket comes in, they promptly get in touch with the user to really understand the issue and their project. The better we know our customers and their context, the easier it is for us to understand their challenges and then solve them or point them in the right direction. Speed and quality are paramount for our global customer service team. We pay a lot of attention to that.
 

Being able to achieve a 96% customer satisfaction rate in such circumstances tells us the iText support team is agile, stress-resistant and focused on delivering quality.
Perhaps, I should add that the 96% especially flatters us given the changes we have had to implement due to COVID-19. Being a global company, remote and virtual work wasn't strange to us. Corona does mean, however, that the entire team now suddenly has to work remotely for 100% of the time. Being able to achieve a 96% customer satisfaction rate in such circumstances tells us the iText support team is agile, stress-resistant and focused on delivering quality. Needless to say, I am very proud of my team.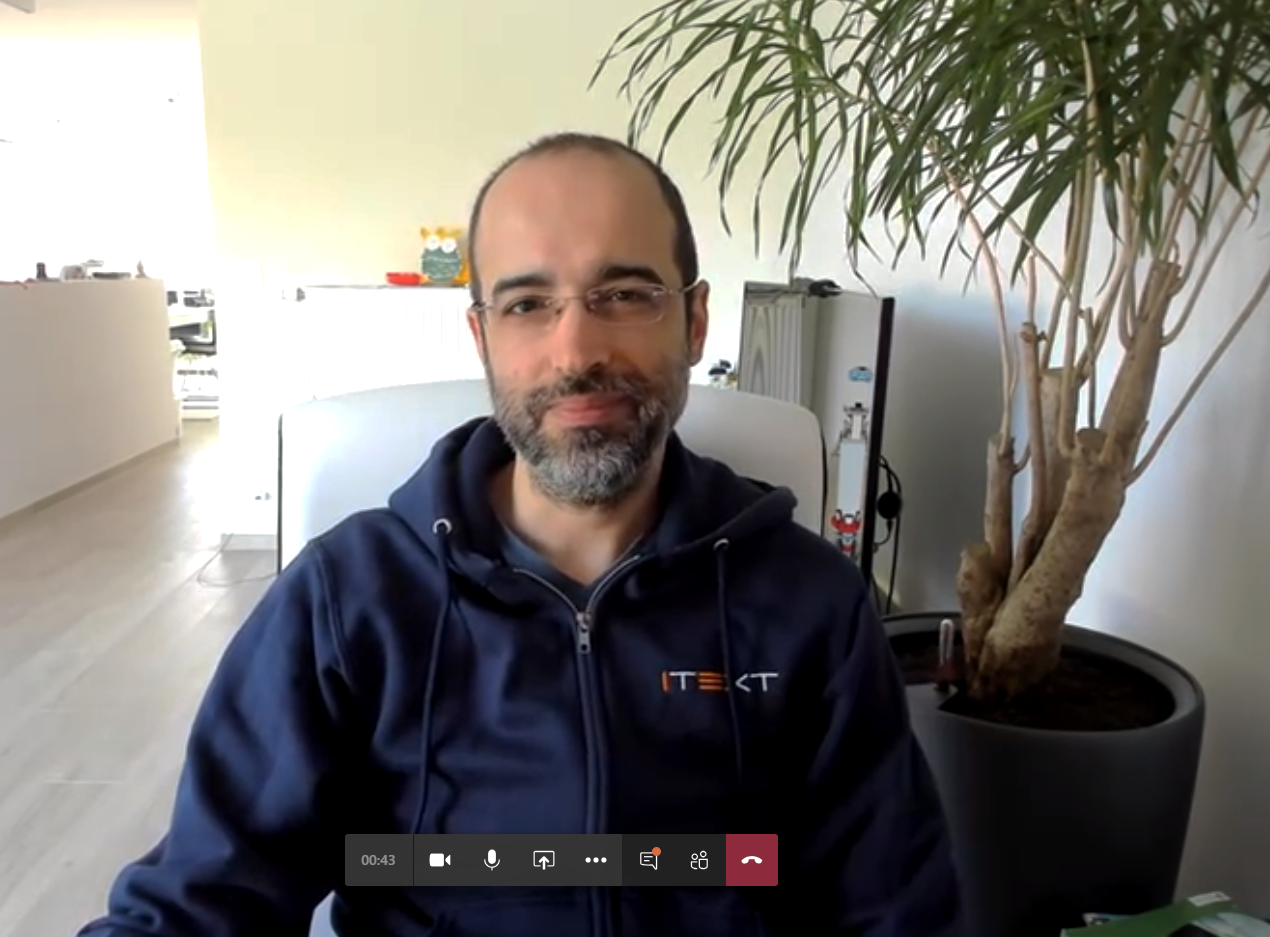 How does the Customer Services team at iText actually operate?
André: Our team consists of highly qualified and customer-oriented software developers. They are very knowledgeable of our code, know our products inside out, and are very much like our own users: detail-oriented, maintaining high standards for speedy and to-the-point answers. Logging and communication with our clients happen in our JIRA portal. It's a great tool to manage, track and follow up on our tickets. Since we do a daily meeting with our global team, if someone's ill or on leave then someone else from the team can quickly take over and has all the insights needed into previous communications with a specific client. We make sure that everyone is operating on the same page.
What kind of questions do you ask your customers in your customer satisfaction survey?   
André: Via the Customer Satisfaction Survey app for Jira, we ask our clients to grade our support in various areas. One of these has to do with our responsiveness: how fast do we interact when a ticket has been logged, how quickly can we resolve the issue… Speed is quite important: every customer wants their issue to be acknowledged and to have it clarified. Another parameter is the quality of the solution that has been delivered by our customer services agent. More often than not, we go out of our way to provide customers with fully-functional solutions. What else do we ask…? Clients can assess our customer service regarding product knowledge, and also the friendliness and professionalism with whom he or she has been served. 
We notice that our agents are rated most positively for solutions they delivered to resolve the client's issues, followed by a courteous and helpful attitude. We understand that when someone is asking for support, they're probably under some stress or deadline, so we try to make it as a streamlined experience as possible. 

What do you do with the feedback?
André: We discuss the feedback internally and dissect any negative feedback that we may have received every month. These meetings have helped us improve our workflow and automation processes greatly. 'Happy customers' means we're happy too! However, there's more to it than just monitoring and improving our customer satisfaction. The feedback that we get from our users more than often lands at some point in our product roadmap. We run regular analyses on the issues that get reported and discuss them periodically. If we see the same issue popping up with various customers, we investigate the need for it and determine whether we need to include it in one of our future releases. In this way our customers have a significant influence on our roadmap! We also have mechanisms in place, so that customers know the exact state in which a current development is in – these being the stages "being considered", "on the development queue", "being developed" and, finally, "available as a snapshot".
Final question: what's next for the Customer Services team? Are there any changes or updates coming up that you can share with the users and clients?
André: Interesting question. We indeed have some plans to further improve our customer service. I cannot tell you anything about it yet, but I would say, ask me again in a few months…"  
Will do! Thank you, André! And again, great work from your team! 
---
---