STACK 2020
STACK is GovTech's flagship conference and the largest government-led developer event in Singapore that connects government, industry and the tech community. Returning on 1 December to 3 December 2020, STACK 2020 will welcome over 3,000 local and global members of the tech sector. 
More information
iText at STACK 2020
Our developers will be present at STACK 2020. We happily invite you to stop by our workshop if you'll also be attending. We'd love to chat with you!
We also offer you promo code to get a discount on your passes. With the code, passes can be purchased at just $120.
Promotion Code: Use the exclusive code <PAVEL120> to purchase your passes at just $120 (Standard Rate $350)
"Signing Documents for a Smarter Nation"
iText Workshop at STACK 2020
We're pleased to announce André Lemos, our Product Manager and Pavel Chermyanin, our Senior Developer will be speaking about "Signing Documents for a Smarter Nation". In this workshop, we will collectively build and integrate with the National Digital Identity (NDI) programme led by GovTech, by creating a sample application that requires an authenticated and authorized user to digitally sign a contract. We will go through the workflow of not just directly interacting with the NDI Sandbox server, but also by building a web application that an end-user can interact with.
Interested in attending? Please register here and join our workshop at the Suntec Singapore Convention & Exhibition Centre
Who Should Attend?

Developers who want to learn how to create a service that leverages the brand new GovTech service to build an even Smarter Nation.
Developers who are keen to leverage the GovTech service through service creation. 

Instructions for Attendees

Be familiar with Java
Bring along your laptop with the following installed:

Java 8, and any Java IDE
Tunneller for localhost publishing on web (e.g. ngrok.com)
Maven 3.3, Git, PDF viewer (Acrobat or Foxit)

Download the National Digital Identity (NDI) Sandbox mobile app on your smartphone:
Follow the instructions on the NDI Sandbox Getting Started Guide to Create Test Digital Identity and Try Out NDI Login.
Image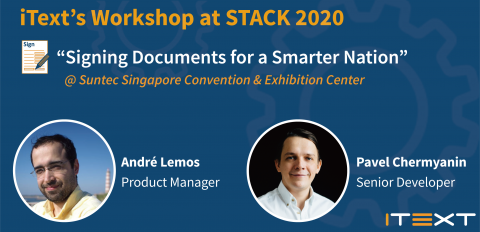 STACK 2020 Developers Conference
1 Raffles Blvd, Singapore 039593