While the carrier has transformed from physical to digital, archiving documents remains an essential and inevitable part of today's document management. For various industries and authorities it is even a legislated requirement. Often documents need to be stored for decades. And if you are going to go through all that trouble, you might as well go for a solution that does so consistently. 
When it comes to the format and standard to use for digital archiving, there is a widespread acceptance of one specific standard: PDF/A. And for good reason. 
In this webinar we will look into these reasons and we:
Give you a basic understanding of the standard and its different parts
Expand on popular use cases and highlight a real-life case study
Demonstrate how to create PDF/A conformant documents with iText 7
You'll also get a chance to ask your questions in the Q&A session at the end of the webinar. 
If you can't join the webinar, register anyway and we will send you the link to the recording of the live webinar. 
Image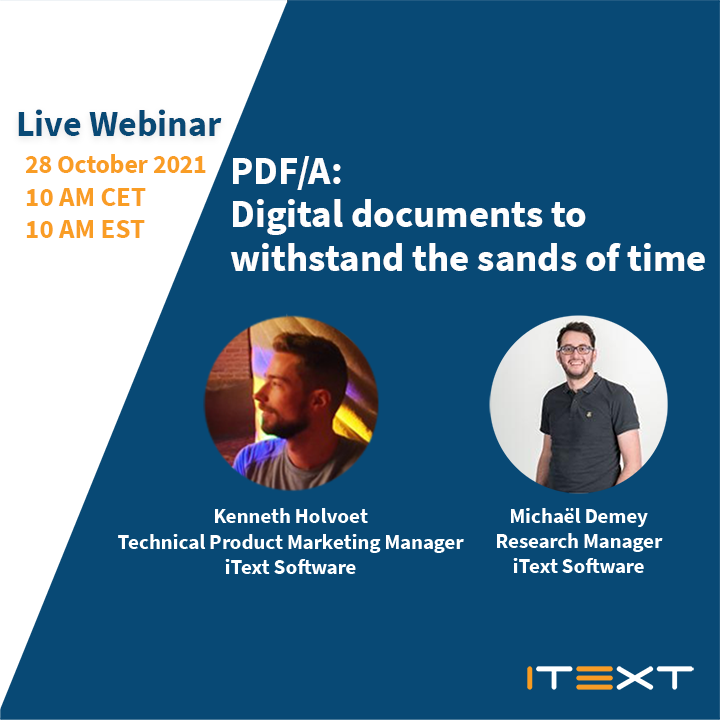 Get the ebook "PDF/A: digital documents to withstand the sands of time"
In this ebook we will look into the reasons to use PDF/A, the standard's details, popular use cases, areas of application over various industries and an archiving case study of an implementation of iText by medical imaging specialist Zeiss. We'll even take it one step further and provide you a tutorial on creating PDF/A with the iText 7 Library.
Download the eBook