The Paris Open Source Summit is Europe's premier event on open source, free software and open innovation. As an international conference summit, business fair and community event, OSS Paris highlights the driving role of open source technologies in current and future digital transformations. 
In 2019, OSS Paris has become the TECH meeting of the open source ecosystem, bringing together contributors, decision-makers and users of open source technology and solutions.
Image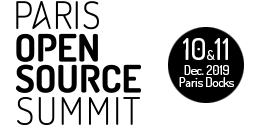 iText on the agenda
At the Paris Open Source Summit, Marco Andries, QA Engineer/Test Automation Specialist at iText, will be talking about "Battle strategies for testing documents".
Curious to attend? Make sure you're in the Business Apps track on Tuesday December 10 2019, from 17h until 17h30. The agenda of this track can be found here.
Paris Open Source Summit 2019