eBook - free copy
Get the eBook "System Integrators and National Digital ID Programs"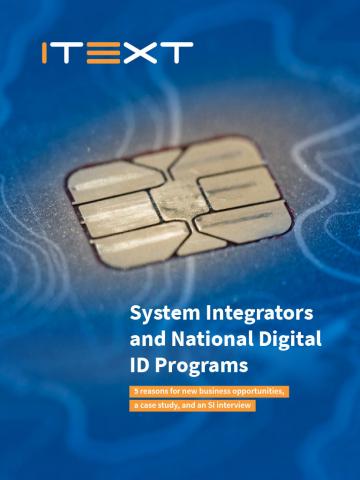 5 reasons for new business opportunities, a DXC Technology case study with the Belgian Government and interview
In this book, we've collected a series of articles aimed at System Integrators, introducing 5 important key reasons why SIs are, and should be, preparing for a surge in National Digital Identity programs and why it will impact document workflows at every private business or governmental institution.
iText Software helps System Integrators cope with an influx in demand to create digital document workflows.
 Read online
System Integrators must gain expertise on National Digital Identity Schemes
The number of electronic National ID cards in circulation will reach 3.6 billion citizens by 2021 according to research company Acuity Market Intelligence.
Over the next five years substantial opportunities will arise for public, private or combined partnerships to create national transaction infrastructures secured by a trusted national digital identity scheme.
This reflects a move from an electronic ID to national identity schemes (often mobile first), causing a global surge towards eGovernment and eCommerce services enabled by electronic identities.