Joining iText in the same week as our "Shake It! Make It!" digital customer event was a fascinating experience for me. As a novice to the PDF industry, I found it a great opportunity to learn about our software, and the many ways that our customers use iText in their document workflows. In an earlier blog, I wrote about how Raf Hens and André Lemos presented an overview of our product and technology stack, and how it has evolved over the years  
There's another side to the story though, and that is how iText developed from a single developer's open-source hobby project into a fully featured and dual-licensed PDF SDK which is backed by a global commercial company. For over a decade now, the revenue generated by our commercial licenses has enabled us to continue full-time development of the iText PDF library and our other products, while providing professional support to our customer base worldwide. 
At the same time though, iText has proudly retained its roots in the open-source community, and in his talk, iText's Pre-Sales Manager Al Sterling laid out exactly how our dual-licensing structure enables us to perfectly blend the benefits of open-source software and commercial licensing. 
As Al explained, iText has been a major promoter of the PDF standard for more than 20 years, and for all that time it has been rooted firmly within the open-source community. To this day, the iText 7 Core PDF library for Java and .NET – which allows developers to programmatically build and manipulate PDFs – is distributed under the GNU Affero General Public License (AGPL v3). For additional PDF functionality, the iText 7 Suite offers a wide range of open-source and proprietary add-ons. These extend the core iText 7 API to enable specialized tasks, such as transparent support of complex languages and writing systems, secure content redaction, high-quality conversion of Office documents, and much more. 
Operating under the AGPL v3 license means that anyone can download and use iText's open-source software for free. You can create unlimited PDFs and even adapt the source code to suit your needs. If you need help, you can turn to a community of millions of developers around the world; iText itself participates on sites such as GitHub and Stack Overflow, and at developer conferences all around the world. 
"Our whole roots are in the open-source community. We fully embrace it. We love the community, we love the camaraderie. We love co-development, co-problem solving, troubleshooting, you name it." – Al Sterling 
Your only obligation is that if you build a project using iText under open source then your project must also be released under the AGPL v3. That includes making your source code freely available, or as Al put it, "If you're open, we're open".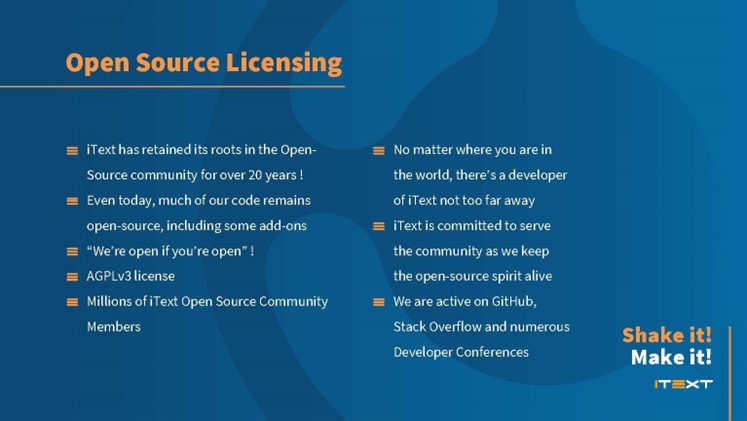 While we are firmly committed to open source, we understand that these terms don't suit everyone. For example, a company might be unable to share its code for security reasons. That is why iText also offers commercial licensing options, which are custom-built to meet your specific needs. 
"So open source is our future. We continue to serve that developer world community with open-source offerings. It's not going away. It's a central part of our business model. You're able to reap the benefits of collaboration and participation worldwide. And in addition to that, if you're not able to share in that way with your source code, we have flexible commercial licensing for those that can't disclose their code." – Al Sterling 
A commercial iText license allows you to make use of what we offer with no obligation to share or disclose anything, it also entitles you to expert support, rather than relying solely on the open source community. You can turn to iText's enterprise support team, with in-house experts on hand and SLAs for a prompt response. Commercial customers also have the opportunity to contribute to the product roadmap, by providing feedback and suggestions for new features that they would like to see.  
Another advantage of commercial licensing is that it gives you the widest range of access to iText's features and libraries. Some add-ons for the iText 7 Suite are only available as closed source options, and iText also offers two major companion products that are only available under commercial licensing. One is iText DITO, which uses a template-based approach to allow non-developers to generate their own PDFs without code; the other is iText pdf2Data, which makes it easy to intelligently extract data from existing PDFs in a form that can be fed into databases or integrated with other systems.  
For companies wishing to publish software that incorporates iText technologies, OEM licensing is also offered. This model comes with custom pricing, and terms that are tailor-made to suit each business. 
The choice of open-source and commercial licensing makes iText the perfect fit for projects and businesses of all sizes and types. Whether your priority is freedom and flexibility, or whether you want the reassurance of owning your code and having a dedicated support team on call, iText is the perfect blend.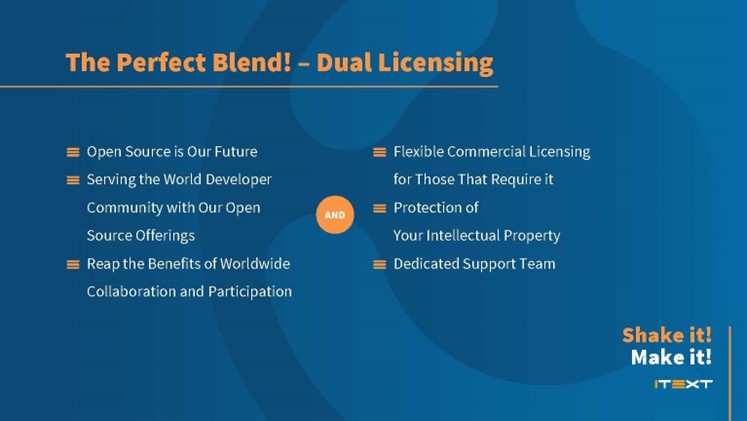 It was great for me to learn about iText's roots in open source, and how we continue to listen to and participate in the community. I also learned a lot about the advantages of open-source software development, and how iText has benefited from and contributed to the open-source community over the years. What I found particularly interesting though is how our dual-licensing model enables us to provide the best of both worlds. Our open-source users benefit from the commercial activities which drive the continued development of the iText SDK, and vice versa. 
Next time we'll be looking at our "Mixologist at Work – Live Coding Session" tutorial, hosted by Michaël Demey, where he demonstrated the ease of creating PDF/A and PDF/UA compliant documents with iText 7 Core.   
This article was based on a talk given at iText's 2022 Customer Event.  
---
---