eBook - free copy
Get the eBook "Blockchain for PDF Documents"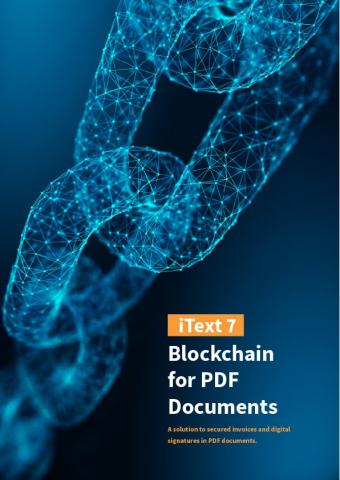 Does this story sound familiar?
You have sent out some contracts in PDF form to your clients and would like to be able to track in real time who has already signed the document, and where it is now. 
You've paid a digital invoice from your supplier, and afterwards it seemed to be fake - you were a victim of invoicing fraud.
These issues and many more can now be solved by Blockchain. 
Get your free copy
What do blockchain and PDF have in common?
Blockchain has become well-known because of its use of Bitcoin, but there are several lesser known applications of Blockchain and Distributed Ledger Technology (DLT). This eBook focuses on how you can use Blockchain in combination with PDFs to write applications. This eBook will explain everything you need to get started with blockchain for documents: - How to reduce the complexity of your code when using digital signing and verification functionality, - How to assure the integrity and authenticity of a document, and - How to automate your document-oriented workflows.