Attending the first four sessions of the iText customer event provided me with some great insights on what our future holds, the open source and commercial benefits of iText, and using the combined capabilities of iText pdf2Data and iText DITO, our collaborative document solutions. Thanks to Michael's fantastic tutorial on creating future proof and accessible documents, I also got an introduction on how developers actually use the iText PDF library to create and manipulate documents, but I was also eager to hear our customers' stories of using our products in the field.  
In the first of our client showcases, Rina Nir, co-founder and CEO of RadBee, sat down with iText VP of Products André Lemos to talk about how her company uses the iText 7 Core PDF library, along with the pdfHTML and pdfRender add-ons in their Speedy PDF Sign Offs application. This solution allows RadBee's customers to efficiently document and archive issue resolution and approvals in Jira Cloud workflows, with electronic signatures integrated into well-designed, industry-compliant PDF documents. This has proved to be a compelling product, and the view behind the scenes showed me what our customers are able to create with iText.
RadBee is an Atlassian partner, which means that they are building tailored solutions around Atlassian's Jira issue tracking tool and their collaboration software Confluence. Rina explained that in a lot of industries Jira users need to officially sign off on issues; especially for compliance and auditing requirements in the medical, pharmaceutical, and financial fields. With Rina's background in a successful MedTech startup, she had recognized that the increasing digitalization of business processes meant there was a pressing need for an effective digital solution.  
Of course, you can export those issues and digitally sign the result with a solution such as DocuSign. Or you can even print, physically sign and scan them. However, RadBee's customers require a more efficient solution, and that's why Rina's company developed their Speedy PDF Sign Offs application. It allows users to generate a Speedy PDF record which captures all the relevant fields and attachments directly from a Jira ticket. This record can then be electronically signed by the required parties and archived in seconds.  
To her surprise, Rina said, she has seen a big uptake of their application in areas outside RadBee's usual customer base, such as the automotive industry and even in marketing agencies. Clearly, the advantages of being able to easily track and sign-off Jira workflows are recognized by these customers, even when compliance and audit requirements are not a primary concern.  
So how do you use Speedy PDF Sign Offs? As you can see from RadBee's slick explainer video above, it is an incredibly smooth process. Users never have to leave Jira's user interface to sign an issue, you simply create a new Speed-eRecord directly from a Jira issue. With just a few clicks, Speedy PDF packages all the necessary information within the Jira issue, organises them into a PDF, allows you to assign people to it and then routes the PDF to those people for their signature. Everyone who needs to sign the document gets a notification just like anything else in Jira. It all works seamlessly, and the signed PDFs are stored on Google Drive or whatever external storage system you have configured. This way you always have your archive of the signed PDF, even if the issue or indeed the whole Jira instance is deleted.  
Rina then explained how Speedy PDF works, and where iText comes in. Essentially, RadBee has built their application around the iText 7 Core PDF library along with pdfHTML and pdfRender. The Speedy PDF user interface generates an HTML document directly from the Jira issue, which is converted to a PDF file with iText's pdfHTML add-on. Crucially, any attachments to the Jira ticket are also included in the PDF, which is then digitally signed using iText 7 Core.  
"So, these attachments are also embedded within the PDF that we generate. And that was an additional capability of the iText engine; the fact that we could create PDFs with embedded files within them. So, you really capture everything from Jira inside the ticket." – Rina Nir co-founder and CEO of RadBee  
Thanks to the pdfRender add-on for iText 7, RadBee is also able to provide a preview of the PDF to be signed directly within the Speedy PDF pop-up, so users can see what they are signing without needing to download or view the PDF.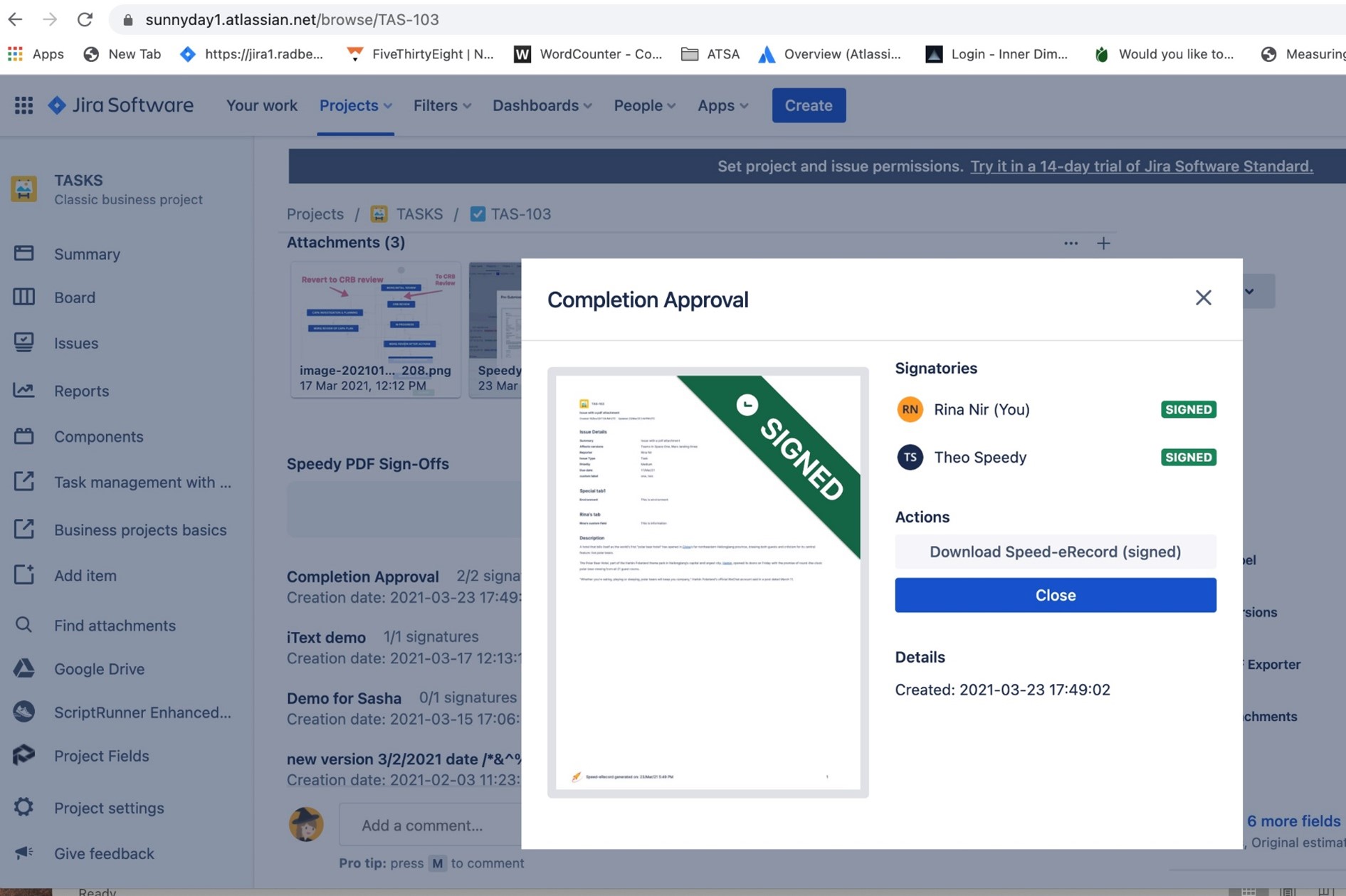 When Rina was describing this workflow, she explained that their initial idea was to use XSL-FO (XSL Formatting Objects) to create their document templates. XSL-FO is a markup language for XML document formatting which was created as a way to generate PDF files. However, Rina shared that they discovered XSL-FO had a steep learning curve, and so they instead decided to create the templates using HTML. This proved to be much more familiar ground for their developers and made it much easier to style documents.  
Another early roadblock was the requirement to embed attachments from Jira issues inside the PDF. As Rina explained, these were the main reasons for choosing to develop their solution with iText. iText 7 has extensive support for PDF attachments, and its wide range of features meant RadBee would not be limited in terms of their roadmap. Indeed, their next planned feature is support for PDF/A, which is a built-in capability of the iText 7 Core library. PDF/A is the standard for long-term document preservation, and so this is a natural addition for Speedy PDF.  
"In terms of the feature set that you had and the roadmap we have seen for our product, you had the most mature feature set. We knew that if we counted on iText, we would not be limited in the future." - Rina Nir co-founder and CEO of RadBee  
The iText team are very proud of what Rina and her team have been able to create using iText, and how Speedy PDF makes it easier for RadBee's customers to work more efficiently. We are excited to see RadBee's plans for the future development of this platform and wish them all the best.  
Be on the lookout for the for the next entry in this series, where iText developers Uladzimir Asipchuk and Yulian Gaponenko share their top tips on improving your PDFs with iText.   
This article was based on a talk given at iText's 2022 Customer Event.  
---
---